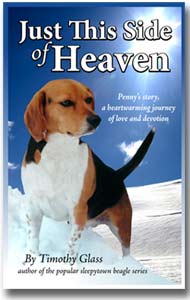 Written By Timothy Glass
Foreword By: Cathy Perry Glass
Publisher: Platinum Paw Press
Publication Date: June 2008
Book Format: Paperback
ISBN (13): 978-0-9817067-1-9
Book Format: Large Print Paperback
ISBN (13): 978-0-9817067-3-3



To read more of what
people are saying about
the book, click here.
To view a special message
from Tim,
click here.

To buy the book click here.
Just This Side of Heaven is a story about love and devotion between human and pet. This story will grab your heart from the first page and have you laughing and crying until the last. From author Timothy Glass of the popular Sleepytown Beagles comes Just This Side of Heaven.
For many of us, myself included, our pets are an extension of our family. They provide us with years of unconditional love and devotion. Just This Side of Heaven is the story of Penny the beagle who blessed me with her love and life as a gift from heaven.
For two years, I was unable to deal with the death of my son. I heard you on the radio speaking about your book and purchased it. I honestly do not understand how something so small that you wrote and talked about could make such a difference in my life, but it has. The Dash was what I was missing. Thank you for helping me to understand how important it is to celebrate the life that I miss and not focus on the death.
K. Johnson, Salinas, CA
A must read, no matter what breed of dog you love. I found the chapter on the "Dash" to be powerful and meaningful; not only as a pet lover, but in my own life.
James Miller, Dallas. TX
Never miss another cartoon, book announcement, contest or news from me. Sign up today
.